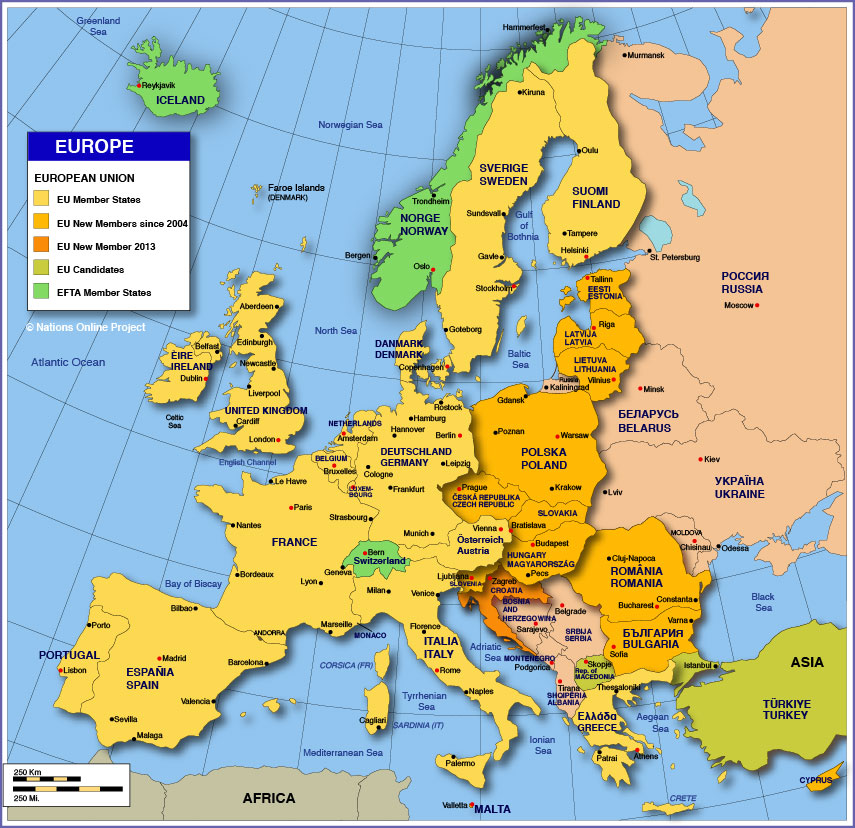 Map © Nations Online Project (www.nationsonline.org). Used with permission.

The countries that comprise the European Union are known collectively as the Member States. The founding members of the European Economic Community, the EU's institutional predecessor, were Belgium, France, (West) Germany, Italy, Luxembourg, and the Netherlands. The first expansion of the EEC took place in 1973 when Denmark, Ireland, and the United Kingdom became Member States. Greece joined the EEC in 1981, followed by Spain and Portugal in 1986.
In 1993, with the implementation of the Maastricht Treaty, the EEC changed its name to the European Union. Austria, Sweden and Finland joined the EU in 1995. The most notable enlargement occurred in 2004 with the accession of 10 new Member States, most of which were formerly members of the Soviet Bloc. They included the three Baltic states (Estonia, Latvia, and Lithuania), the Czech Republic, Hungary, Poland, Slovakia, and Slovenia, as well as Cyprus and Malta. Bulgaria and Romania joined the EU three years later. Croatia became the 28th Member State on July 1, 2013.